Venue and Conference Site
---
Equipment and Facilities
All rooms (WS, Tutorial and Technical Conference) are equiped with a video projector and an overhead transparencies projector.
The main conference room of AIPS (Cassiopée) will also be equiped with a PC connected to the video projector. This PC runs Windows 2000 and has a CD Rom as well as a floppy disk . Presenters who want to use this PC should come with a floppy or a CD Rom and copy their presentation on the PC in advance. In any case, to avoid delays due to machine setup between presentations, presenters are strongly encouraged to test their equipment /setup before hand (during the pause, or before the session).
An ADSL Internet connection will be available and an Internet room (Daurat, Level 3) will be set with the following equipment:
10 computers (Mac/PC/Sparc),
a number of 10 Base T drops for people with portable computer, (network setting: DHCP)
a 802.11 network (Airport /WiFi) deployed "around" the Internet room (name: AIPS-KR, network setting: DHCP).
The internet room (Daurat, Level 3) will open around noon on the 22nd and will then be open from 8:30 to 18:30 until the 27th.
People with particular equipment requirements should get in touch with the local committee (aips-local@laas.fr) as soon as possible.
---
Venue and Maps
The conference and associated workshops/tutorials will take place at the Pierre Baudis Convention Center (Centre de Congrès Pierre Baudis), downtown Toulouse. (1 on the map)
Pierre Baudis Convention Center (Centre de Congrès Pierre Baudis)
11, esplanade Compans Caffarelli
31000 Toulouse
FRANCE
Tél. + (33) 05 62 30 40 40
Fax. + (33) 05 62 30 41 41
The Toulouse city hall site has lot of maps at various resolutions.
The Pierre Baudis Convention Center has some maps too.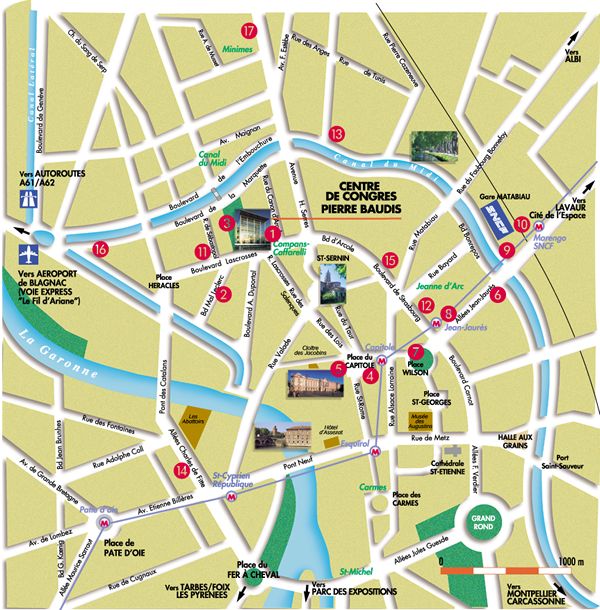 ---
Weather in Toulouse
The current and forecasted weather in Toulouse can be found here, on Meteo France web site.
---
How to get to...
by plane
There are many flights arriving in Toulouse Blagnac, and the airport being of a limited capacity, they have to go back where they come from. So it is unlikely that you will stay stuck in Toulouse, except if somebody whose activity is linked to traveling by plane, is on strike.
by train
The train station (Gare Matabiau SNCF) is located on number 10 on the above map. Check the SNCF site for more information (my colleagues from KR says the Deutsche Bahn site is even better, I can believe that).
by car
We drive on the right side of the road (most of the time), and honk usage is reserved to situations where you think the other drivers need driving lessons (i.e. often). Due to the large numbers of rivers, canals, and one way-streets in Toulouse downtown, 80% of your driving time is spent in traffic jam, the 20% remaining is spent looking for a free parking spot. Turnabouts are a regional specialty and should be entered with caution (you do not have the right of way). After entering though, you can drive at maximum speed until the centrifuge force kicks you out (hopefully at the exit you intended to take).
by boat
You can rent a small boat and arrive in Toulouse by the Canal du Midi (which goes from Beziers to Toulouse), considering the number of locks and the speed of the boat, you should plan this cruise in advance. The section of the canal close to the Centre Pierre Baudis is currently closed for lock repair. So you should park near the train station.
by rocket
There is an Ariane 5 parked at the Space City, but it is not yet available for traveling back to your Planet.
... what else?
I told you, these two pages (Toulouse tourism office and the Centre Pierre Baudis page : "how to get to Toulouse") are more serious and have more reliable information...


... the Pierre Baudis Conference Center

from the airport: take the shuttle to downtown (one every 20 minutes; 4 Euros); get off at the first stop downtown "Compans Cafarelli'' (travel time: 15 minutes). The Conference Center is just across the street.
from the railway station: take the subway, direction "Basso Cambo'' and get off at the first stop (Jean Jaures); with the same ticket, take the bus number 1 (direction Leclerc) or 16 (direction Ponts Jumeaux) or 24 (direction Leclerc). In all cases, get off at the stop "Compans Caffarelli'' (total travel time: 20 minutes). The Conference Center is on your right.
You may also walk from the station to the Conference Center, following Rue Bayard, Boulevard d'Arcole and Boulevard Lascrosses (20 minutes walking).
You may take a cab too.
from downtown (Place du Capitole): walk through Rue des Lois (on your left when facing the Capitole (city hall)), then Rue des Salenques, then Rue Lascrosses, until you reach Boulevard Lascrosses. Cross the street. The Conference Center is a few meters away on your left.
---
Miscellaneous Links
Link to the Toulouse Tourist Office
Link to the Toulouse City Hall
---